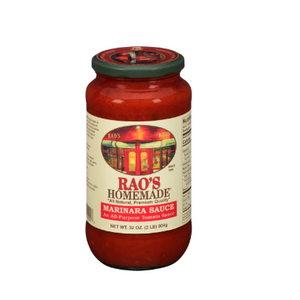 Delicious speaks for itself. From the moment the Rao family began creating authentic Italian
pasta sauces served in Rao's legendary New York restaurant, and later at Rao's Las Vegas and
Rao's Los Angeles, creating a delicious sauce made from only the finest ingredients has been
an obsession. Frank Pellegrino Sr. decided to take those magical sauces and put them into
jars and launch the Rao's Homemade® premium pasta sauce brand.
Rao's Homemade® quickly became the world's leading brand of premium pasta sauce and for
good reason: Rao's sauces are simmered slowly and made in small batches with only the best
ingredients, like pure Italian olive oil and hand-picked, naturally ripened tomatoes from
southern Italy. Our sauces have no tomato blends, no paste, no water, no starch, no filler, no
colors, no added sugar.
The result? Authentic, nutritious, irresistibly delicious tomato sauce you can rely on for
irresistibly delicious meals.
Bring home the famous taste of Rao's Homemade® Marinara Sauce. We slow cook sweet Italian plum tomatoes with fresh ingredients to create this classic sauce.