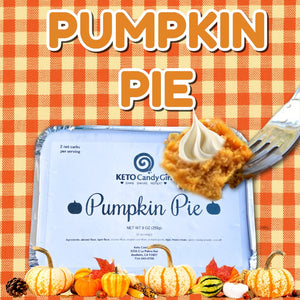 Keto Mail Order
Indulge in the seasonal joy with Keto Candy Girl's limited-time, limited-availability Pumpkin Pies – a holiday favorite for keto enthusiasts. Crafted with care, these sugar-free, gluten-free delights embody the warmth of traditional pumpkin pies while staying true to ketogenic principles. Hurry and savor the festive flavor profile, as these delectable treats are only available for a short time, promising a guilt-free and keto-friendly celebration of autumn's sweetness.
Please refrigerate or freeze immediately upon arrival. 
Available while supplies last
Although we take great care to hand package each order, we can't be responsible for damage during shipment. We promise they will always taste delicious!
Orders will ship within 3-6 business days, to ensure freshness. We can not guarantee delivery by a particular date. 
Keto Candy Girl is not responsible for any unclaimed packages or returned shipments. All fresh baked sales are final, and the correct shipping address is the responsibility of the customer.