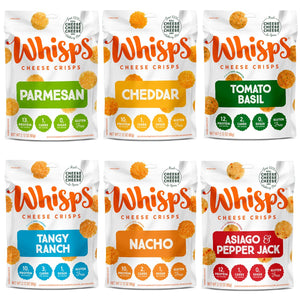 JUST 100% ARTISANAL CHEESE: Every Whisps crisp is baked in small batches, created by master cheesemakers in the USA.

KETO-FRIENDLY & GLUTEN-FREE: Keto-Friendly, Vegetarian-Friendly, Gluten Free, Peanut Free, Lactose-Free

LOW CARB & GOOD SOURCE OF PROTEIN: With zero sugar per serving, and good amount of protein, Whisps is great for snacking on the go, or entertaining at home

GOOD SOURCE OF CALCIUM: Premium milk from local farms, also a good source of Calcium.

REAL PREMIUM INGREDIENTS: This delicious snack is a great alternative for chips and crackers with nearly no carbs! Perfect for snacking straight out of the bag or adding to your soups, salads or appetizer plate.